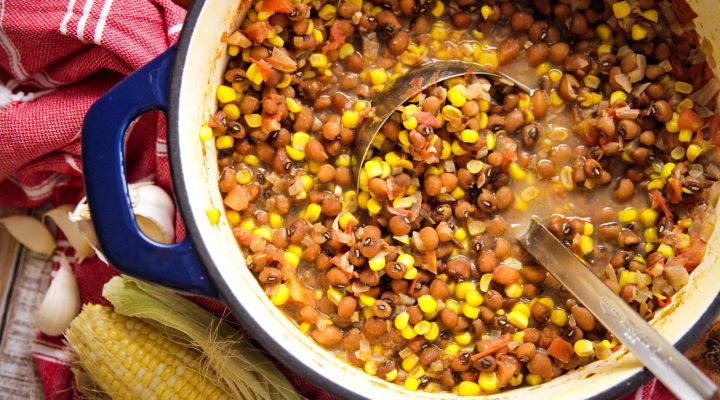 Contributed by
Jennifer Hill Booker
Stewed Tomatoes, Corn & Peas
Directions:
1. Rinse and soak peas overnight.
2. Heat the olive oil in a medium stockpot over medium-low heat. Add the onion, garlic, and diced tomatoes, and cook for 15 minutes, stirring occasionally, until the onions are soft and any liquid from the tomatoes has cooked off.
3. Add the peas and stock to the tomato mixture and cook, covered, for 25-35 minutes, or until the peas are tender. Add additional stock as needed.
4. Remove the lid, add corn kernels, and season with salt and pepper to taste.
5. Serve warm.
Adapted from Dinner Deja Vu: Southern Tonight, French Tomorrow by Jennifer Hill Booker, photography by Deborah Whitlaw Llewellyn (Pelican Publishing, 2017).
Chef Jennifer Hill Booker is a Le Cordon Bleu-certified chef, cookbook author, reality TV personality, culinary educator, business owner and GA Grown Executive Chef for the GA Department of Tourism and Travel. She weaves her love of traditional Southern cuisine with her belief in incorporating healthy, seasonal foods and her classic French training.