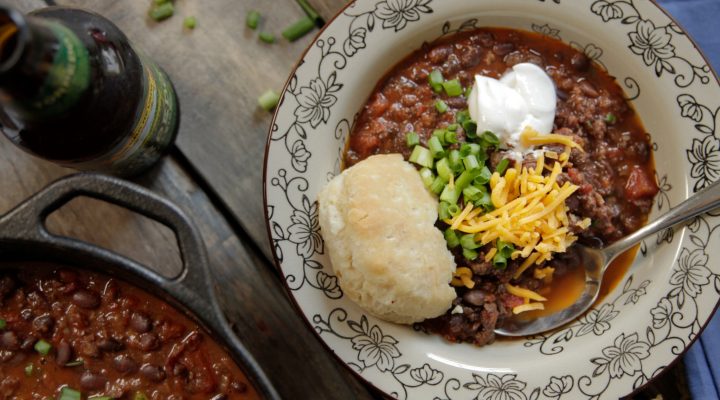 Stovetop Beef & Black Bean Chili
Directions:
Sauté the ground beef or turkey in a very large Dutch oven over medium-high heat until the meat is browned, stirring to break it up as it cooks.
Drain meat, and return it to Dutch oven.
Add onion and cook until translucent, about 5 minutes.
Add the Poblano peppers, jalapeño, chipotle chile powder, and cumin; stir thoroughly. Cook until the peppers soften slightly, about 3 minutes.
Add garlic, green chilies, diced tomatoes, crushed tomatoes, black beans, and 3 cups beef broth. Stir to combine.
Bring to a boil, reduce heat to low, and cook for 3-4 hours, stirring occasionally, until the beans are soft but not falling apart. Add additional broth as necessary.
Season with salt to taste. Serve with assorted toppings.
Note: On a scale of 1-5, the spice level of this chili is a 3. If you prefer less heat, reduce the amount of Poblano chilies and jalapeño pepper used.