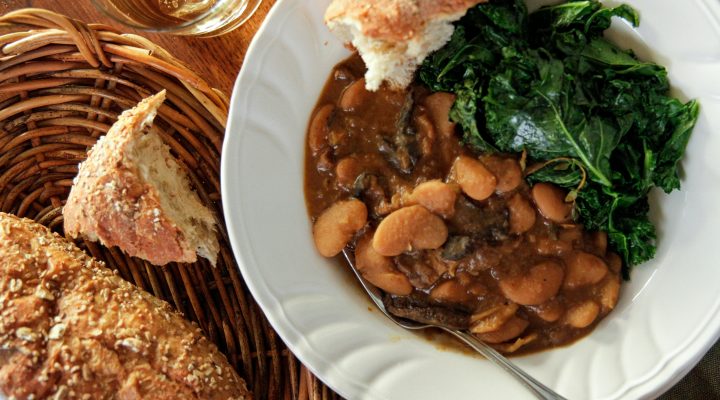 Vegetarian Lima Beans with Mushrooms
Directions:
Rinse and sort lima beans. Soak beans overnight with enough water to cover by 2 inches. (You can skip this step, but may need to add more liquid when cooking, and cook the beans longer.)
When ready to cook, soak dried mushrooms in 2 cups hot water for about 20 minutes. Remove mushrooms, and save the resulting mushroom broth (that has now turned a tea-like color).
Chop mushrooms into roughly 1-1/2 inch bite-sized portions and reserve.
Add olive oil to a large pot over medium heat, and sauté onion and celery with a pinch of kosher salt and the black pepper, cooking until translucent, about 5-7 minutes. Add shallot and garlic, and cook another minute.
To the pot, add reserved chopped mushrooms, reserved mushroom broth, vegetable stock, and drained beans, and bring to a boil. Add bay leaves and soy sauce and stir all.
Bring to a boil, then cover and simmer until beans are tender, about 1 1/2 hours. Season to taste.