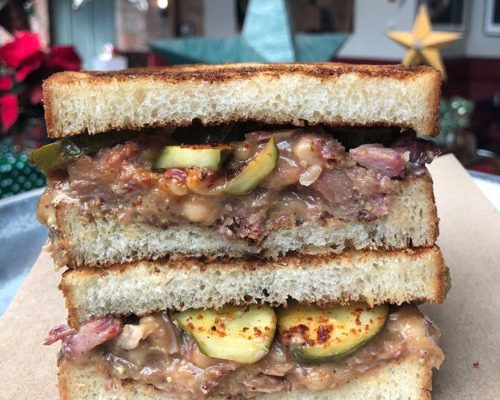 Contributed by
Chef Jean-Paul Bourgeois
White Bean and Smoked Pork Sandwich on Texas Toast
Directions:
White Beans
In a small soup pot, heat bacon fat until hot.
Add onions, peppers, and garlic and sauté for 10 minutes on high heat.
Add beans, stock, and bay leaf.
Cook on medium heat (simmer) for two hours.
Stir beans every 10 minutes.
When beans are tender, creamy, and falling apart; season beans with hot sauce and salt and pepper.
Cool beans overnight.
Sandwich
Toast your favorite bread on both sides with butter until golden brown.
On one side of the bread; spread creole mustard.
Smear bean and pork mixture evenly across the toast. Make sure to have a good ratio of beans and meat.
Add your favorite pickle chip on the sandwich.
Cut sandwich in half and serve immediately.
Jean-Paul Bourgeois is Executive chef of Blue Smoke restaurants in New York City. His career in the kitchen began a long time ago, boiling crawfish, crabs and shrimp at a local seafood shack in Thibodaux, Louisiana. While his roots are in the south, his goal is to tell the story of southern food through its foodways in New York and beyond.