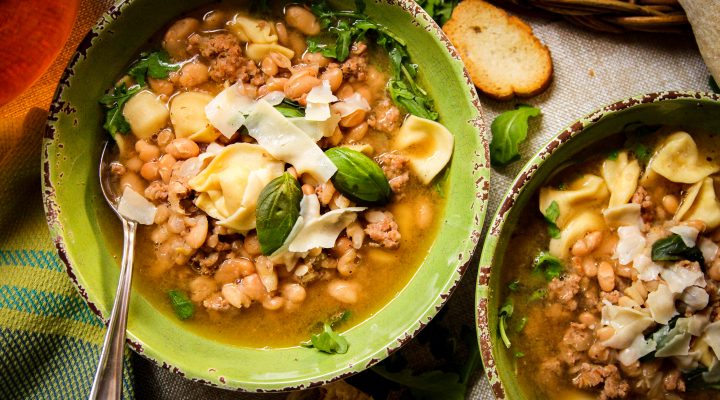 White Bean, Sausage and Tortellini Soup
If you like more of a kick, use spicy turkey sausage or add 1/2 teaspoon of crushed red pepper flakes with the beans.
Directions:
Rinse and sort beans.
Press sauté on your Instant Pot or multi cooker, and add olive oil. Add the sausage and cook until lightly browned, about 5 minutes. Remove the sausage with a slotted spoon and set aside.
Add the onion and fennel, and sauté for 2 minutes.
Add the beans, broth, water, oregano and pepper. Place the lid on the pot and lock.
Turn off sauté, and put on high pressure; cook for 30 minutes. Release steam and remove the cover.
Turn on sauté, and bring the mixture to a slight boil. Return the sausage to the pot, add the tortellini and cook, stirring occasionally until just cooked through, about 5 minutes.
Turn off the heat. Stir in the Parmesan and lemon juice.
Place a handful of arugula in a soup bowl. Ladle in 1 1/2 cups soup. Top with fresh chopped basil.