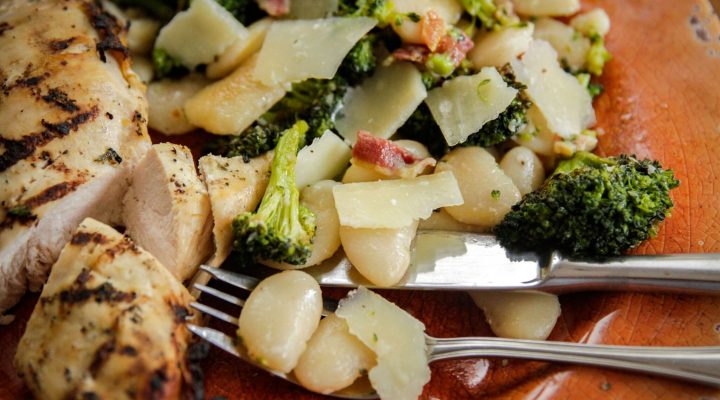 White Beans with Roasted Broccoli & Parmesan
Directions:
Rinse and sort beans, and place in a large heavy pot.
Remove rind from Parmesan. Add rind along with onion and 3 cloves garlic to beans in pot. Add water to cover beans by 2 inches; season with salt.
Bring to a boil, reduce heat, and simmer, adding water as needed to keep beans submerged, until beans are tender, about 2 hours. Let cool, Discard vegetables and Parmesan rind, and drain.
Add 1 tablespoon oil to a skillet over medium-low heat, and cook the pancetta, turning as needed so it doesn't burn, for about 6 minutes, until crispy. Set aside to cool. Crumble and reserve.
Preheat oven to 400°. Toss broccoli with 1/4 cup oil, salt, pepper, red pepper flakes and smashed garlic. Spread evenly on a sheet pan, with smashed garlic towards the center of the pan to keep it from burning. Roast broccoli until tender and browned, about 20-25 minutes. Let cool.
Finely chop a handful of roasted broccoli. In a large bowl, toss the chopped broccoli with the crumbled pancetta, lemon zest, lemon juice, and beans.
Shave half of the Parmesan over the mixture. Add remaining roasted broccoli and 1/4 cup oil; toss and season with salt, pepper, and more lemon juice, if desired. Shave remaining Parmesan over all and serve.