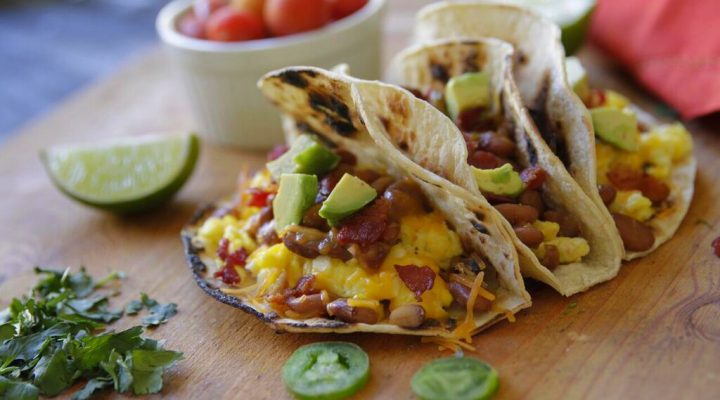 Bean & Bacon Breakfast Tacos
Directions:
Cook bacon in skillet over medium heat until well-browned. Remove to a paper towel-lined plate to cool. Once cool, break bacon into bits and set aside.
Heat a small amount of oil or butter in a non-stick skillet over medium-low heat. Whisk eggs in a bowl, add a pinch of salt and pepper, and pour into skillet. Cook until eggs are set and put aside.
Heat tortillas, covered with a damp towel, in the microwave. Or, if you have a gas stovetop, use tongs to heat the tortillas over an open flame until charred and hot.
Place warmed tortillas side by side on a plate. Fill each tortilla with scrambled eggs, pinto beans, shredded cheese, bacon bits and chopped avocado. Top with chopped cilantro and pico de gallo, if desired. Serve immediately.