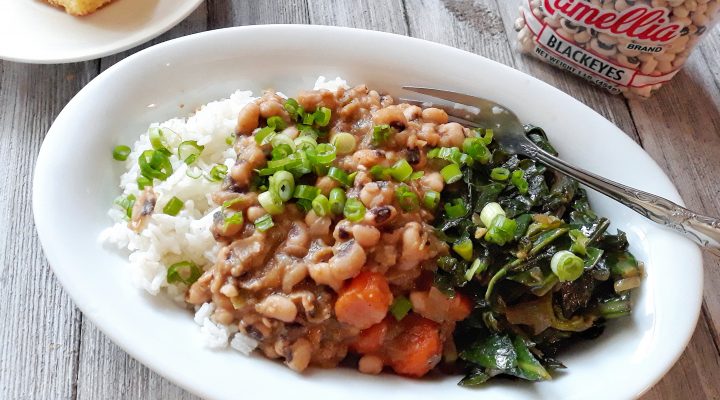 Contributed by
Eric Olsson
The Best Meatless Blackeye Peas and Rice
This meatless version is hearty, healthy, and is a wonderful alternative to seafood during Lent.
Directions:
Rinse and sort peas; place them in a large bowl or pot, cover, and let soak overnight.

Drain and rinse off the peas. Pour the vegetable stock into a large pot along with the peas and bay leaf; bring the pot to a boil over MEDIUM heat then reduce the heat to allow the pot to simmer.

While the peas are simmering, in a large skillet, saute the onions, green bell peppers, cloves of garlic until the onions are transparent and the peppers have softened; about 10 minutes.

Add the celery and carrots to the skillet along with the thyme, sage, black pepper, cayenne pepper, and white pepper and continue to saute for an additional 5 minutes.

Carefully pour the contents of the skillet into the simmering pot of black eyed peas and continue to cook until the peas, carrots, and celery are tender; about 1 hour.

About 15 minutes before serving, add the Balsamic vinegar and hot sauce and adjust the seasoning with the Creole Seasoning and salt and pepper.

Serve over hot white rice and garnish with chopped green onions.
I don't make Black Eyed Peas and Rice nearly often enough. I tend to think of black eyed peas simply as the New Years Eve meal and forget about it throughout the year. But this meal is so much more than simply a way to start the year off with a little luck and the hope for extra spending money. This meatless version is hearty, healthy, and is a wonderful alternative during Lent if you want to skip out on the local fish fry. - Eric Olsson, Red Beans and Eric