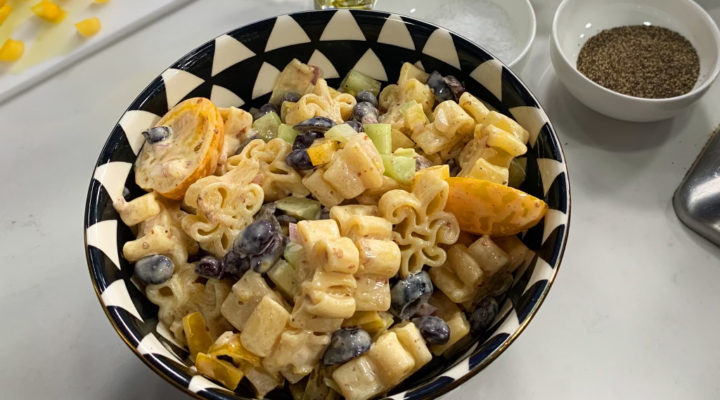 Black & Gold Pasta Salad
Directions:
Bring a large pot of salted water to a boil. Add pasta to pot, and cook for 5 minutes, until tender.
Drain pasta in a colander, and rinse with cool water.
Transfer pasta to a large bowl, and add 1 ½ tablespoons olive oil.
In a separate, medium bowl, whisk the remaining 2 tablespoons olive oil with Creole mustard, mayonnaise, red wine vinegar, cane syrup, lemon juice, hot sauce, smoked paprika, Cajun seasoning, salt, and black pepper. If dressing is too thick, add 1 tablespoon of water at a time to thin slightly. Adjust seasonings to taste.
To the pasta in the large bowl, add shallots, tomatoes, bell pepper, celery, black beans, and olives. Toss to combine. Add dressing, and mix until well combined.
Chill for at least 1 hour.
Garnish with optional cooked shrimp or chicken and freshly chopped parsley, and serve.