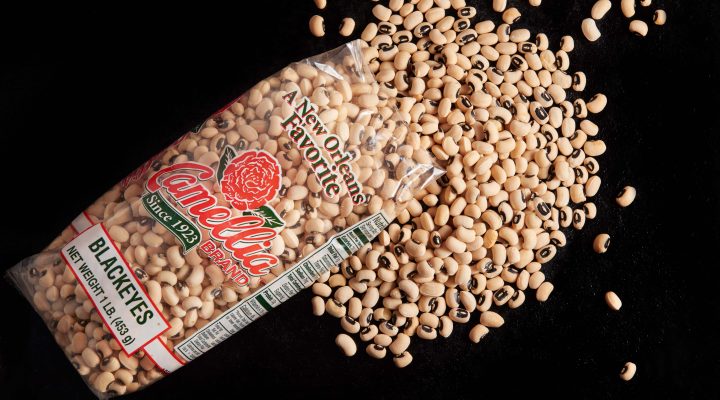 Contributed by
Chef Kevin Mitchell
Blackeye Peas and Greens
Directions:
Drain soaked peas, place in a large pot, and cover with plenty of cold water. Add thyme and 2 garlic cloves and bring to a boil over high heat. Reduce heat to medium-low and simmer, covered, about an hour. (After peas have been cooking 40-45 minutes, add a generous pinch of salt to the pot.) Once peas are tender, remove pot from heat, let stand 5 minutes, then drain. Reserve 2 cups of the cooking liquid and set aside.
In a wide, heavy-bottomed pot, heat oil over medium-low; add the onion and cook until tender, about 10 minutes, then add ginger, garlic, red pepper flake and salt and cook stirring occasionally, until softened and just starting to brown, about 10 minutes. Add the curry and turmeric and cook, stirring, until fragrant, about 2 minutes. Add the tomatoes and cook, stirring occasionally, until softened, about 10 minutes. Add the stock, coconut milk and reserved cooking liquid to pot, bring to a boil, then reduce heat and simmer, stirring occasionally, until the tomatoes break down and the sauce thickens a bit, about 20 minutes.
Add the peas to the sauce and cook over medium-low heat, stirring, until the peas are lightly coated, about 10 minutes. Stack kale leaves on top of one another, roll tightly and slice into thin ribbons. Fold greens into peas and remove pot from stove. (Greens will cook from the residual heat). Adjust seasonings and serve.
Chef Kevin Mitchell is a member of the Culinary Institute of Charleston and the Slow Food community. This recipe was submitted as part of the 2018 Terra Madre Day as a Food for Change meal.