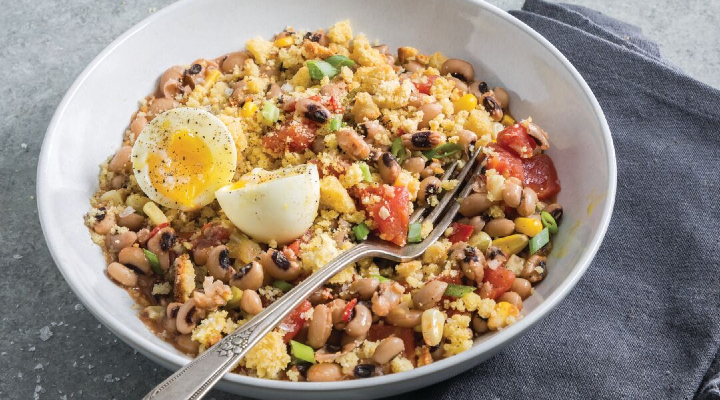 Contributed by
Taste of the South
Blackeye Peas and Jammy Eggs
Directions:
In a large bowl, combine blackeye peas and water to cover by 2 inches. Cover and let stand for 6 hours to overnight. Drain, discarding liquid.
In a medium stockpot or Dutch oven, heat 1 tablespoon oil over medium heat. Add green onion, chile, and garlic; cook until softened, about 3 minutes. Stir in blackeye peas and vegetable broth. Bring to a boil, and reduce heat to medium-low; cover and simmer, stirring occasionally, until peas are tender, 30 to 35 minutes. Stir in tomatoes and corn; return mixture to a boil, and reduce heat to medium. Continue cooking, uncovered, until mixture is thickened, 35 to 40 minutes more. Stir in salt, honey, and vinegar.
Preheat oven to 400°. Line a baking sheet with parchment paper. Add cornbread and remaining 1 tablespoon oil, tossing to combine.
Bake until toasted, 5 to 7 minutes, stirring halfway through baking. Let cool on baking sheet. (Cornbread will continue to dry and crisp as it cools.)
Fill a medium bowl with ice water. Fill a large saucepan with water to about 1½ inches from top; bring to a boil over medium-high heat. Using a slotted spoon, carefully add eggs to pot; reduce heat to medium, and cook for 7 minutes.
Transfer eggs to prepared ice bath, and let rest until cool enough to handle, 2 to 3 minutes. Peel eggs and cut in half.
Divide pea mixture among shallow bowls. Top each with two egg halves and cornbread crumbles. Serve with hot sauce. Garnish with green onion and sea salt, if desired.
This recipe and image are from Taste of the South magazine.