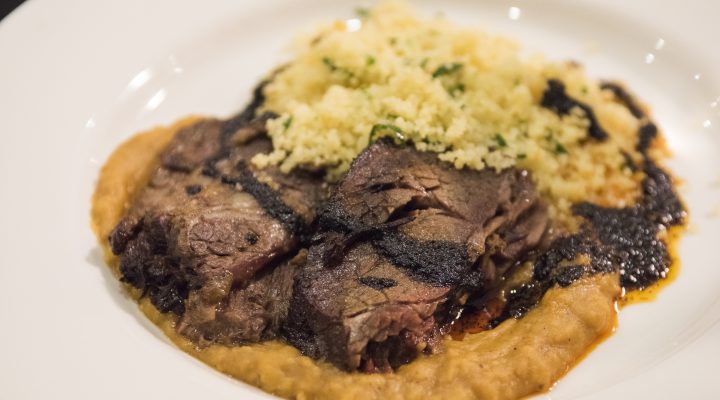 Contributed by
Alon Shaya
Braised Short Rib and Berbere Split Peas
Directions:
BRAISED SHORT RIB
Season the short ribs with salt and allow to sit in the refrigerator overnight. The following day, roast the short ribs on 450F on a sheet tray until deeply caramelized, about 20 minutes. Place the short ribs in a deep roasting pan and set aside.
Separately, in a large saute pan, caramelize the yellow onions, carrot, fennel bulbs, and garlic in canola oil over medium-high heat. Turn off the heat and add the paprika and allow to toast until fragrant.
Place the cooked vegetables over the short ribs in the roasting pan and top with the orange rind and reserved fennel fronds.
Cover the short ribs with water then cover with foil and allow to cook at 275F for 3 hours until tender and just starting to fall apart when pulled at with tongs. Allow to fully cool in the braising liquid before removing the meat.
Drain the liquid from the short rib, set aside the meat, and reduce the liquid on the stove over medium-low heat until slightly thick, about 20 minutes.
Slice the meat and glaze in the oven on 400F with the reduced liquid until caramelized. Serve over the split peas.
BERBERE SPLIT PEAS
Start by sweating red onions and chopped garlic in a heavy bottom pot over medium heat with the canola oil until translucent, roughly 15 minutes.
Add the berbere spice and allow to toast until fragrant about 2 minutes.
Add the drained and soaked split peas to the pot, salt, and cover with the water.
Allow to cook on medium heat, uncovered, for 30 minutes until the liquid is absorbed.
When the lentils are tender, turn off the heat and add the olive oil and stir in gently. Set aside to serve with the short ribs.
Alon Shaya is an Israeli-born chef who currently owns two restaurants: Saba in New Orleans and Safta in Denver. His culinary journey and resounding love of Israeli and Italian cuisine is reflected in his cookbook, "Shaya: An Odyssey of Food, My Journey Back to Israel."