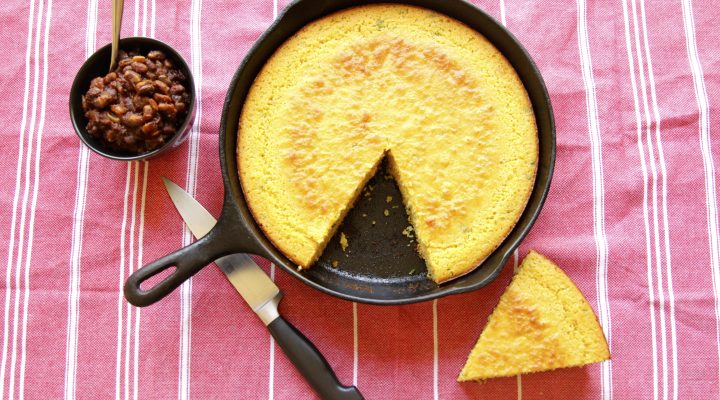 Buttermilk Cornbread in Cast Iron Skillet
Directions:
Preheat oven to 375 degrees.
In a medium bowl, sift together cornmeal, flour, baking powder, salt, and baking soda. Set aside.
Melt butter in an 11- or 12-inch cast iron skillet over medium heat. Cook, swirling pan to lightly to coat the sides and bottom, until the foam subsides and the butter turns a deep nut brown, taking extreme care not to burn the butter.
Pour the brown butter into a large bowl. (Do not wipe out skillet.) Whisk the maple, honey, or agave syrup into the butter, then whisk in buttermilk. The mixture should be cool to the touch; if not, let cool before whisking in eggs and scallions (if using). Then, with a wooden spoon, mix in the reserved dry ingredients.
Scrape batter into skillet. Bake until the top is golden brown and an inserted toothpick emerges clean, 30 to 40 minutes. Cool in the skillet for 10 minutes before slicing.
Note: Taking the few extra moments to brown the butter lends an extra depth and complexity that is cut through by the tangy buttermilk, making this cornbread exceptional for breakfast and as a side for dinner. Feel free to add a bit more maple, honey, or agave (or skip it altogether) to suit your taste.