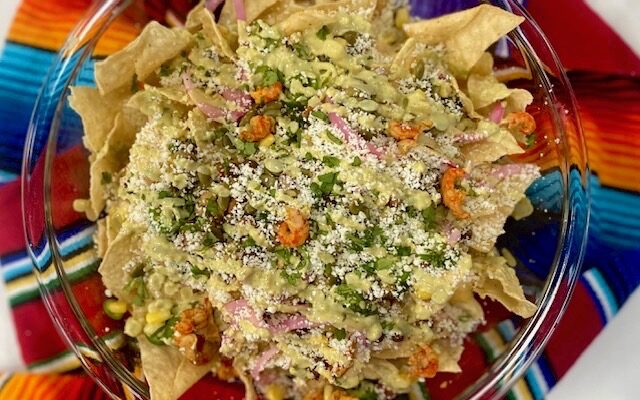 Contributed by
Chef Jamie Warrick
Cajun Cowboy Crawfish Nachos
Directions:
For the White Bean Cheese Sauce, soak beans in cold water for 6 hours or overnight. Drain, rinse, and add beans to a medium-sized pot. Cover with 3 to 4 cups fresh water. Bring to a boil, and lower heat to a simmer. Allow beans to simmer, partially covered with a tilted lid, for 45 minutes or until soft. Stir occasionally and add water as necessary. Drain and set aside.
To a blender or large container (if using a hand blender), add beans and milk. Blend on high speed until beans and milk are totally smooth. Transfer to a small pot over medium heat.
Add shredded cheddar to pot, whisking continuously as it simmers. Add Cajun seasoning to taste, if desired. Remove from heat and use sauce immediately, or store.
For the Pickled Red Onions, add sliced onions to a container that has a tight lid; mason jars work well.
Add the next 4 ingredients to a small pot over medium high heat. Bring to a boil, making sure that the salt and sugar dissolve completely.
Remove from heat, and pour over onions. Add crushed red pepper flakes to mixture, if desired.
Allow onion mixture to cool to room temperature; cover with lid and refrigerate until ready to use. Wait 2 hours before using.
For the Nachos, preheat oven to broil. Spray a parchment-lined sheet pan with vegetable oil. Layer tortilla chips with white bean cheese sauce, sauteed crawfish, Cajun caviar, and Monterrey Jack cheese. Place in oven until cheese is melted.
Garnish with pickled red onions, serrano pepper slices, cheese, and cilantro. Top with Spicy Avocado Crema.