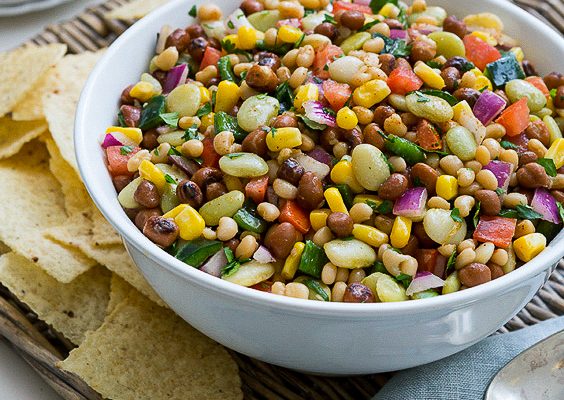 Cajun Caviar
Directions:
Combine thyme, parsley, rosemary, garlic, bay leaves, and peppercorns on a large square of cheesecloth. Bring together ends of the cheesecloth and tie with a kitchen twine to secure contents.
Rinse and sort beans and peas.
In a Dutch oven, add beans and peas, stock, butter, onion, cheesecloth satchel, salt, and 1 teaspoon Cajun seasoning. Bring to a boil over medium-high heat. Reduce heat to a simmer on low to medium-low heat and cover, stirring occasionally, until tender, about 60 to 90 minutes.
In a small bowl, whisk together oil, vinegar, lime juice, and remaining 1 tablespoon Cajun seasoning; set aside.
In a large bowl, combine beans mixture, tomato, pepper, corn, onion, cilantro, and garlic. Add oil mixture to bean mixture, tossing to combine.
Cover and chill for up to 2 hours. Serve with tortilla chips, if desired.