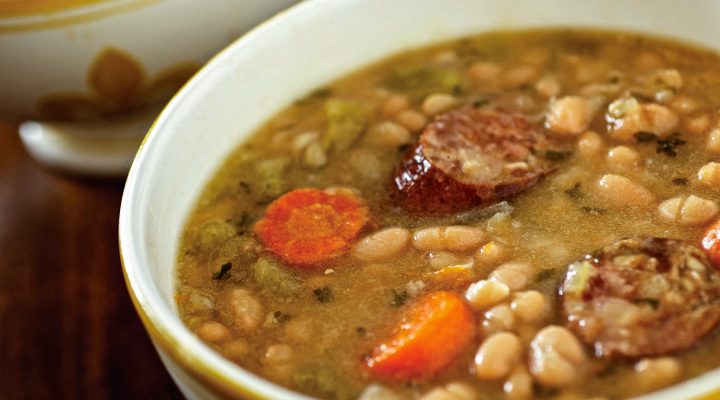 Contributed by
Lauren Malone Keller
Chartres Cajun White Bean and Sausage Soup
A little less populated by tourists than its neighboring streets of Bourbon and Royal, Chartres Street affords all the charm of the Quarter. Its wrought-iron balconies showcase colorful ferns, flowers and flags, while the street below houses art galleries, funky boutiques and restaurants galore. This hearty, savory soup will call to mind the classic spirit of a French Quarter café.
Directions:
In the slow cooker, combine sausage, navy beans, carrots, celery, yellow onion, pepper, cumin, red pepper, bay leaf and chicken broth.
Cook on low heat for 8 hours or until beans are tender.
Immediately before serving, stir in parsley. Garnish with crumbled bacon and green onions. Serve over rice.
From In a While, Crocodile: New Orleans Slow Cooker Recipes by Patrice Keller Kononchek and Lauren Malone Keller, photographs by Michael Palumbo.
©2014 Patrice Keller Kononchek and Lauren Malone Keller, used by permission of the publisher, Pelican Publishing Company, Inc.