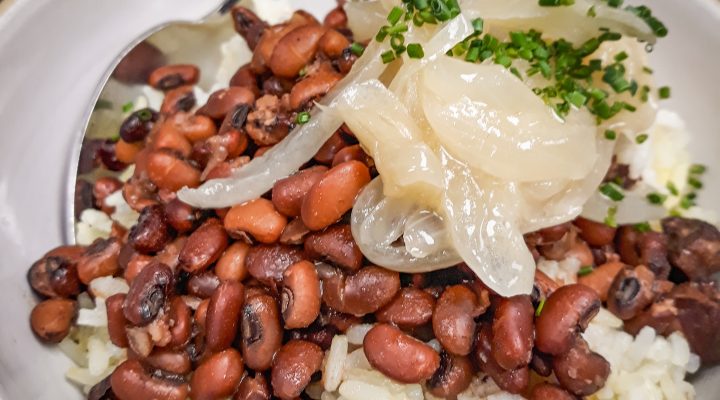 Contributed by
Jennifer Hill Booker
Chef Jenn's Smoky Field Peas with Brown Butter Onions & Rice
Directions:
Rinse and sort field peas; set aside.
Place oil, cubed bacon, onion and garlic into a large stock pot over medium heat.
Cook until bacon is crisp and onion and garlic are soft and lightly browned, stirring occasionally.
Remove bacon mixture from pot and set aside.
Add field peas, vegetable stock and Deep South SeasonAll Salt to the pot; mix to combine. Increase heat to medium-high and bring to a boil for 10 minutes.
Reduce heat to medium-low, cover and simmer for an hour.
While field peas are simmering, make Brown Butter Onions: Melt butter in a large, heavy bottomed sauté pan over medium-low heat. Add oil and sliced onions. Stir to coat, spreading onions evenly in pan. Sprinkle with salt and cook for 30 minutes, stirring occasionally. Reduce heat to low and cook an additional 30-45 minutes or until butter and onions are golden brown.
Return bacon mixture and any drippings back into the pot of field peas.
Simmer an additional 30 minutes or until the field peas are soft.
Adjust to taste with additional Deep South SeasonAll Salt.
Garnish with Brown Butter Onions and chopped chives and serve over hot rice.
Chef Jennifer Hill Booker is a Le Cordon Bleu-certified chef, cookbook author, reality TV personality, culinary educator, business owner and GA Grown Executive Chef for the GA Department of Tourism and Travel. She weaves her love of traditional Southern cuisine with her belief in incorporating healthy, seasonal foods and her classic French training.