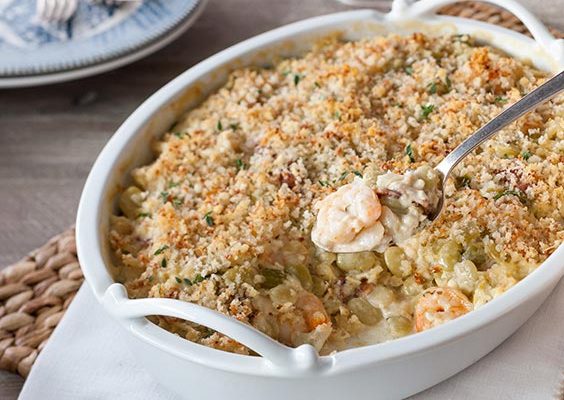 Contributed by
Louisiana Cookin'
Creamy Green Baby Lima Bean And Shrimp Casserole
Directions:
In a large bowl, combine shrimp and Cajun seasoning; gently toss to coat. In a medium bowl, whisk cream cheese until smooth. Add soup, 1/2 cup Parmesan, and wine, stirring until smooth. Set aside.
In a large Dutch oven, melt butter over medium-high heat. Transfer 2 tablespoons melted butter to a small bowl, and set aside. To Dutch oven, add bell pepper and celery. Cook, stirring occasionally, until tender, about 5 minutes. Add garlic and thyme, and cook 1 minute more. Stir in Dorothy's Delicious Green Baby Lima Beans, lemon juice, and salt. Cook for 5 minutes, stirring occasionally. Add shrimp and cook until pink and firm, 3 to 4 minutes. Stir in cream cheese mixture, and cook for 2 minutes. Remove from heat.
Pre-heat oven to 350ºF. Spray a 3-quart baking dish with cooking spray. Spoon mixture into prepared pan.
To reserved 2 tablespoons butter, add bread crumbs and remaining 2 tablespoons Parmesan, stirring to combine. Sprinkle over casserole.
Bake until browned and bubbly, 25 to 30 minutes. Garnish with thyme, if desired.