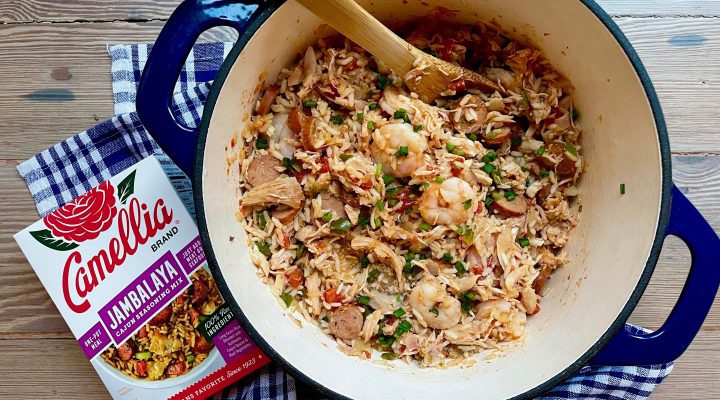 Creole Jambalaya
Directions:
Set a large heavy pot, preferably a cast-iron Dutch oven, over medium-high heat. Add 2 tablespoons oil and the sausage and/or ham. Cook until lightly browned, and the fat has rendered out, about 5 minutes.
Add chopped onion and cook, stirring frequently, until a rich caramel color develops, about 8 minutes.
Add bell pepper and celery, and continue cooking until the vegetables have softened, about 4 minutes.
Add garlic and chicken, stir thoroughly, and cook until the garlic is fragrant, about 3 minutes.
Add diced tomatoes and broth; stir thoroughly.
Add contents of Jambalaya Cajun Seasoning Mix package, and stir thoroughly. Bring the mixture to a simmer, cover, reduce heat to low, and cook for 28 minutes. 
If using shrimp, gently stir into the jambalaya with 5 minutes of cook time remaining.
Remove jambalaya from heat, and let stand for 5 minutes. Stir gently. Garnish with green onions, if desired.