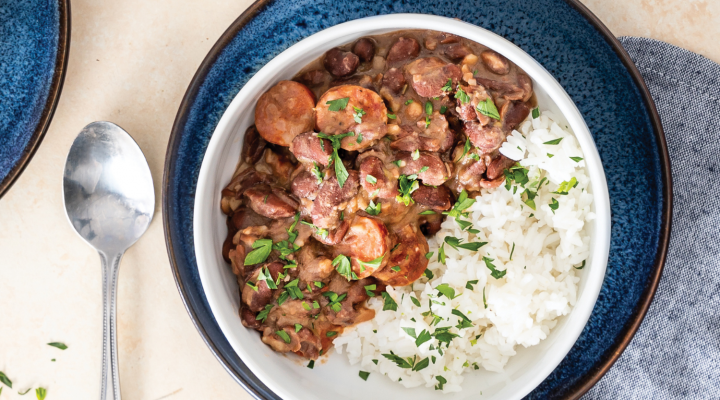 Contributed by
Taste of the South
Creole Red Beans and Rice
Directions:
Rinse and sort beans. In a large bowl, combine beans and water to cover by 2 inches. Cover and let stand for at least 8 hours. Drain.
Preheat oven to 400°. Line a rimmed baking sheet with foil. Place sausage on prepared pan. Bake in top third of oven until crispy and browned, about 25 minutes. Let sausage drain on paper towels.
In a large enamel-coated cast-iron Dutch oven, heat oil and butter over medium heat. Add onion, celery, and bell pepper; cook, stirring frequently, until tender, about 3 minutes.
Add broth, 4 cups water, bay leaves, salt, hot sauce, garlic paste, black pepper, red pepper, and beans. Increase heat to medium-high and bring to a boil. Reduce heat to low; cover and simmer, stirring occasionally, until beans are tender, about 2 hours. Remove bay leaves. Remove from heat. Using an immersion blender or potato masher, blend or mash beans to desired consistency. Stir in sausage.
Cook bean mixture over medium heat until heated through and slightly thickened. Serve with rice. Garnish with parsley, if desired.
Notes: Andouille sausage is an essential for New Orleans-style red beans and rice, but if it's not in your local market, be sure to use smoked sausage.