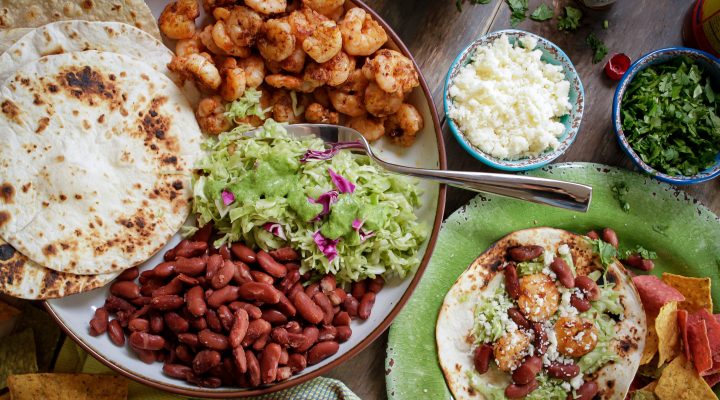 Creole Shrimp & Red Bean Tacos
Directions:
Add all coleslaw ingredients (except for cabbage) to a food processor or blender, and pulse until smooth. In a bowl, toss 3/4 of the dressing with shredded cabbage and refrigerate. Reserve the rest of the dressing for topping tacos.
Pat shrimp dry. To a bowl, add shrimp and Creole seasoning. mix thoroughly to cover shrimp with seasoning.
In a wide skillet, heat oil or butter over medium heat. Add shrimp in a single layer to hot skillet, and sauté just until shrimp are seared and cooked through (pink). Be careful not to overcook.
Warm tortillas by wrapping in aluminum foil and heating in a 350° oven for 15-20 minutes. Or, heat individual tortillas over a gas burner flame, using tongs to flip and slightly char each side.
Add cooked shrimp, red beans and cilantro lime coleslaw to warm tortillas. Top with additional dressing, if desired, and add other toppings to taste.
Recipe adapted from Pinch of Yum.