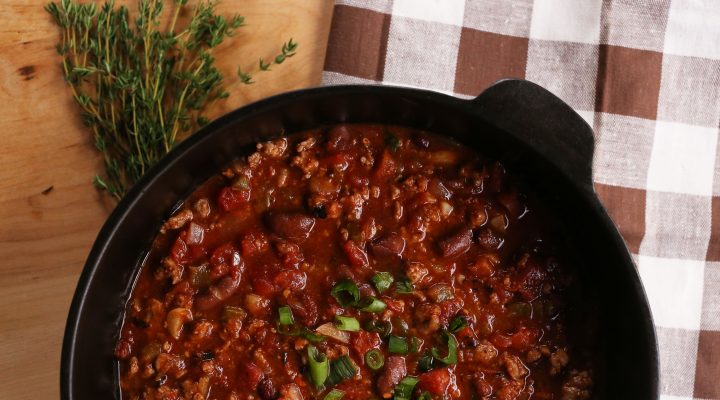 Creole-Style Pork & Red Bean Chili
Directions:
Heat oil in a large Dutch oven set at medium-high. Add the chaurice sausage, and, using a wooden spoon, break up the sausage into bite-sized chunks. Stir and cook until the sausage is fully opaque, about 8 minutes. (If also using pork tenderloin, do not add yet.)
Add onion and cook until translucent, about 6 minutes.
Add celery and bell pepper and cook until soft, about 5 minutes.
Add Camellia Brand Red Kidney Beans, dried thyme, tomatoes, garlic, and Pork & Veal Magic®. (If using diced pork tenderloin, add it at this time.) Bring to a boil, cover, reduce heat to medium-low and cook until slightly thickened, about 30 minutes, stirring occasionally.
Add tomato paste and stir until thoroughly combined, taking care not to break up the beans
Bring chili to a boil, stir in green onions and add Kosher salt to taste. Cover, remove from heat and let stand for 20 minutes before serving.
Garnish individual bowls of chili with fresh thyme leaves.
Note: On a spiciness scale of 1 (mild) to 5 (hot), this chili is a 3 with chaurice only or a 2 with pork tenderloin and chaurice combined.