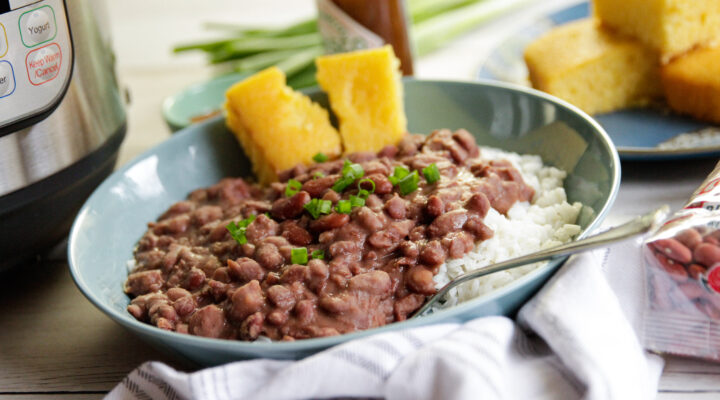 Easy Instant Pot Red Beans & Rice
This simplified recipe makes red beans super fast in the Instant Pot with no hands-on attention required and no soaking. Using pre-chopped trinity makes the process even faster. Yes, you can sauté the trinity in oil first before adding the rest of the ingredients, but you can also just dump everything in, set it, and forget it!
Directions:
Rinse and sort beans.

Put the beans, ham hock or seasoning meat, pre-chopped trinity, garlic powder, and water or broth in the Instant Pot. Twist to lock the lid, and turn the valve to sealing.

Press the Manual button and set to 40 minutes at high pressure. When the timer beeps, allow the pressure to release naturally for 20 minutes. Then, turn the valve to venting.

Remove lid. If using a ham hock, remove it with tongs, and discard skin, bones and cartilage. Chop or shred ham and stir back into beans.

Add salt, pepper, and Creole seasoning to taste.

Serve over hot cooked rice.
Instant Pot Tips:
* No soaking is needed if you cook the beans for 40 minutes at high pressure. If you do soak your beans, cut the cook time in half (20 minutes at high pressure).
* Always let the pressure release naturally for at least 20 minutes. This should ensure soft beans.
* If the beans are not soft after 40 minutes of high pressure cooking and 20 minutes of natural pressure release, then re-secure the lid, seal the vent, and cook for an additional 5-10 minutes at high pressure.
* If there's too much liquid left in the pot after cooking, turn on Sauté mode and simmer for a few minutes so that excess liquid evaporates.