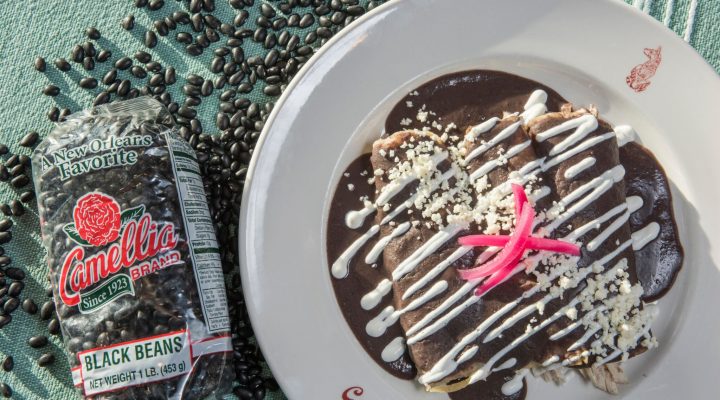 Contributed by
Chef Guillermo Peters
Enfrijoladas
Directions:
1. In a blender or food processor, puree the cooked beans to a creamy texture. Add liquid from cooked beans, water or chicken stock if needed to make a thin pourable puree.
2. In a sauce pan, combine 3 cups of pureed beans and warm. Reserve one cup of the pureed beans.
3. In a skillet, heat oil and lightly fry each tortilla for 10 seconds on each side. Use tongs to remove from skillet and dip into the pureed beans mixture, place flat on a baking dish, fill the center with chicken and bean mixture, and roll. 
4. Place rolls into an oven-safe baking dish in a row and top with the rest of the pureed beans. Drizzle with sour cream and top with queso fresco. Serve two to four per order. 
Tips:
Make a red or green Mexican hot sauce to go along with the cheese and sour cream, garnish with fresh cilantro. Add chilled frijoles de olla to any salad as a garnish.
Recipe by Chef Guillermo Peters of Canal Street Bistro, a New Orleans restaurant serving refined global cuisine in the heart of Mid-City.