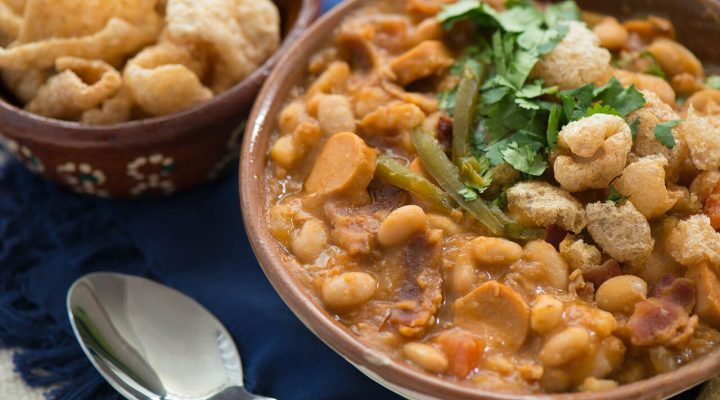 Contributed by
Ericka Sanchez
Frijoles Charros (Mexican Cowboy Beans)
Directions:
Combine beans and water in a large slow cooker. Stir in olive oil, two onion quarters, garlic cloves and salt. Cook for 8 hours on low. Adjust salt as needed. Turn heat off; remove and discard garlic cloves and onion pieces.
Cook chorizo in a sauté pan over low-medium heat, breaking it up into small crumbles. Add bacon and hot dog pieces. Cook until chorizo and bacon have cooked through. Drain excess grease, and add mixture to the cooked beans in the slow cooker.
Add remaining onion, tomatoes, jalapeño strips, and two tablespoons of reserved jalapeño pickling liquid to the same sauté pan used to cook the meat mixture. Cook for 5 minutes over medium heat. Transfer mixture to slow cooker.
Stir all ingredients in slow cooker and mix well. Cover and cook for 1 more hour on low.
Serve hot in individual bowls topped with pork cracklings, fresh cilantro and additional pickled jalapeño strips.
Cook's Note: If your slow cooker releases too much steam during the cooking process, avoid loss of liquid by adding additional boiling water to the beans as they cook. This will keep your beans from drying out.
Ericka Sanchez is the creator and recipe developer at the award-winning www.NibblesandFeasts.com, a bilingual blog created to share traditional Mexican family recipes and modern dishes with a Latin twist.