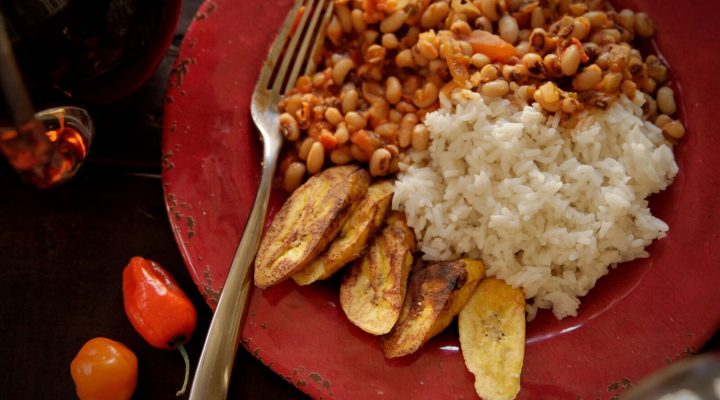 Contributed by
Fran Osseo-Asare
Ghana Bean Stew (Red-Red)
Blackeye peas are a type of cowpea. They are an important source of protein in Ghana, where they are often cooked in a stew with a little smoked fish. Bean Stew is a favorite dinner in our house, where we serve it with Gari or fried ripe plantain. However, it could just as well be served with plain boiled rice. It keeps and reheats well, so it can be made ahead of time. This meal is quite filling, and a light fruit dessert is all that is needed to complete it.
Directions:
Rinse and sort peas.
Add peas to a large bowl, covering with 3 cups water. Soak overnight.
Add peas and soaking water to a large stockpot or Dutch oven. Add an additional 1-cup water to pot. Bring to a boil over high heat. Reduce heat, cover, and simmer until peas are tender, about 1 hour.
Once peas are tender, add salt, and set stockpot aside.
Chop onion.
Rinse fish, removing skin and bones (if any), and break into small pieces.
Heat oil in a frying pan over medium heat. Add chopped onion and cook until translucent.
Add tomato sauce to frying pan and stir well; add fish and stir. Simmer for 2-3 minutes.
Pour contents of frying pan into stockpot.
Add red pepper and an additional 1/2 – 1 cup water to stockpot. Simmer stew for 20 minutes over low heat, stirring occasionally.
Salt and pepper to taste, and serve with hot cooked rice and fried plantains.
Adapted from A Good Soup Attracts Chairs: A First African Cookbook for American Kids by Fran Osseo-Asare (Pelican Publishing, 2001).