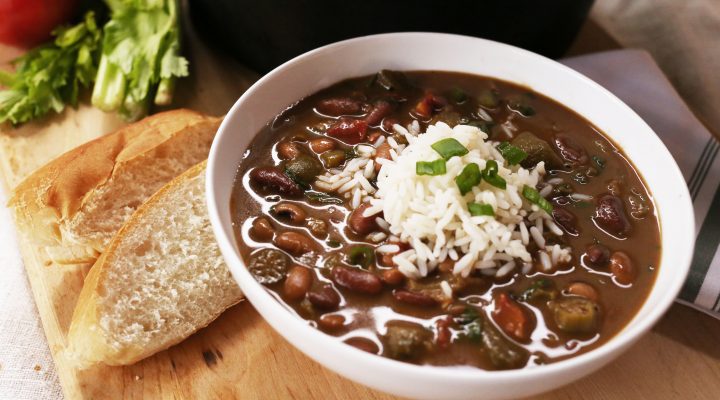 Hearty Louisiana-Style Vegan Gumbo
Directions:
Heat vegetable stock to a rolling simmer, cover and set aside. Set out onions, celery and green bell pepper to allow them to reach room temperature.
Make a roux: Heat oil in a large cast-iron pot or Dutch oven over medium-low heat until it reaches the smoking stage. If the oil sizzles when a drop of water is added, it is hot enough.
Place flour into a sifter and sift into the hot oil, whisking constantly, until the flour is completely dissolved into the oil and the mixture becomes the consistency of cake batter. Switch from the whisk to a flat-edged wooden roux spoon. Stir constantly. The roux will begin to thicken slightly and darken. Keep stirring constantly until mixture is a deep, dark brown color, about 20 minutes. (If roux burns, discard and start over.)
Add room-temperature onions; stir and cook until the onions soften, turn translucent, and start to caramelize, about 5 minutes.
Add room-temperature celery and bell pepper, increase the heat to medium and cook until soft, about 5 minutes. 
Add hot vegetable stock, stirring to combine; increase heat to medium-high and bring to a boil. 
Add garlic, tomatoes, thyme, beans, okra, collard greens, Creole seasoning, and pimenton de la vera. Bring to a boil. Cover, reduce heat to medium-low and cook until thickened and the vegetables are soft, about 30 minutes.
Remove the Dutch oven from heat and add green onions. Cover and let stand for 10 minutes.
Serve over hot cooked rice; season to taste with Louisiana-style hot sauce.