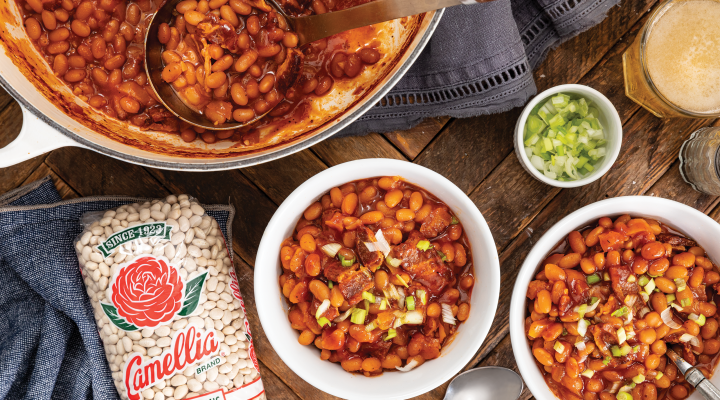 Contributed by
Taste of the South
Jalapeño Pepper Jelly Baked Beans
Directions:
In a medium Dutch oven, add dry beans and cover with 2 inches of water. Cover and let stand at room temperature overnight.
Drain and rinse the soaked beans and return them to Dutch oven. Add chicken broth; bring to a boil over medium-high heat. Reduce heat to medium-low and simmer, covered, until beans are tender, about 1 hour and 30 minutes. Remove from heat.
Preheat oven to 375°.
In a medium skillet, cook bacon over medium-high heat until browned and crisp, about 10 minutes. Using a slotted spoon, remove bacon and let drain on paper towels. Reduce heat to medium. Add onion and bell pepper; cook, stirring frequently, until just tender, about 5 minutes. Add garlic; cook until fragrant, about 30 seconds. Remove pan from heat; add bacon and vegetables to bean mixture in Dutch oven, stirring until well combined.
In a medium bowl, whisk together pepper jelly, ketchup, barbecue sauce, tomato paste, Worcestershire sauce, mustard, salt and black pepper. Add mixture to beans, stirring until well combined.
Cover Dutch oven and bake the beans, stirring occasionally, until sauce is bubbly and thickened, about 1 hour. Uncover and bake until sauce has reduced and thickened to desired consistency, about 25 to 30 minutes more. Garnish with green onion.