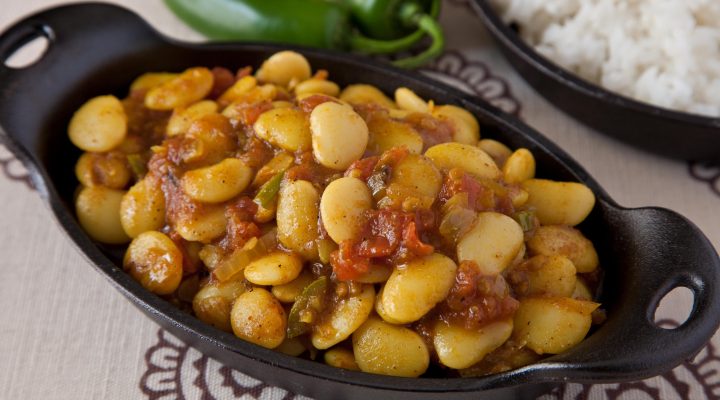 Contributed by
Suchitra Kamath
Lima Beans Song (Curried Lima Beans)
Directions:
Soak Lima beans in 2 cups water for Atleast 4-5 hours or overnight. Then drain the water, add fresh water about 1.5 cups and cook in pressure cooker with until tender. Generally about 15 minutes on medium heat or until you hear 1 whistle. Make sure you don't overcook the beans as the dish will turn into a mushy paste.Do not open the pressure cooker until the pressure has completely been released. Keep aside.
Heat oil in a frying pan/ wok on medium heat. Add the chopped onions, sauté until they turn almost golden brown. Add the tomatoes and sauté until the tomatoes begin to wilt. Now add turmeric powder and Chilli powder and sauté for 30 seconds. Now add the cooked navy beans( without the water) and mix well. Add the water left behind from cooking the  beans as needed based on your desired consistency of the dish. Add salt, mix well. Simmer until it comes to a gentle boil. Turn off the flame.
Garnish with fresh cilantro.
Serve hot with rice/ roti/ bread.
Suchitra Kamath is a blogger and a member of the Slow Food community. This recipe was submitted as part of the 2018 Terra Madre Day as a Food for Change meal.