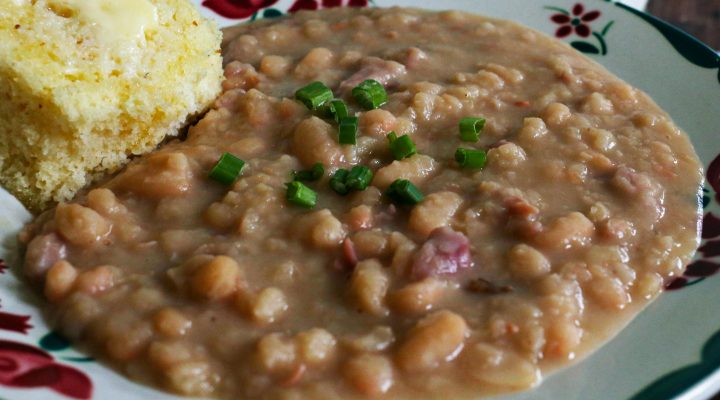 Contributed by
R.L. Reeves, Jr.
Nellie Sullivan Knew How To Cook Northern Beans
Directions:
Sort through and wash your beans
Place in big kettle or crockpot with plenty water and ham hock
Bring to boil
Cook at boil for 1 hour
Remove hock bone from cook pot, pull meat off bone, reserve, return bone to kettle
Reduce heat and simmer until extremely tender
Add reserved meat to beans
They must be "cooked down" which is to say cooked until they are beyond soft. The beans and ham coalescing until they are virtually indistinguishable from one another. This is the one bean dish I make that receives this treatment. It's important.
Adjust flavors with salt and pepper
This dish needs to be served with a skillet of white meal cornbread hot from the oven. Please be observant of Mrs Sullivan's tradition and put lots of cow's butter on your hunk of corn bread and wash the whole affair down with a big glass of ice cold cow's milk.
This recipe hails from R.L. Reeves, Jr., a Texas photographer and writer who is living and documenting life in the 9th Ward of New Orleans. His recipe and cooking notes are from his food and culture blog, scrumptiouschef.com