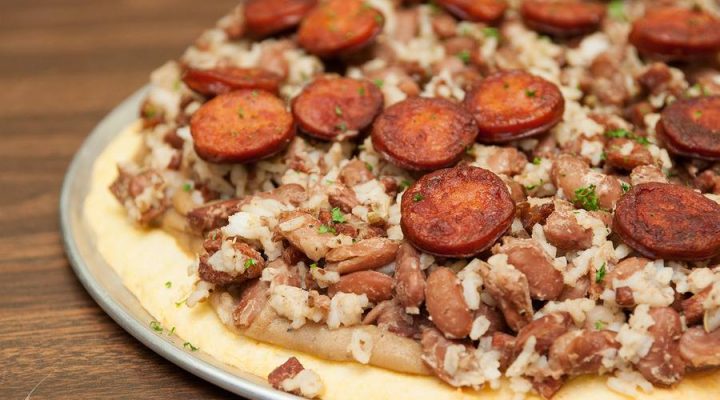 New Orleans Red Beans and Rice with Andouille Pizza
Directions:
Red Beans and Rice:
In a large pot, sauté onion, celery, bell pepper and green onions in 1 tablespoon olive oil.
When the onions are translucent, add the diced sausage and the garlic, being careful not to burn the vegetables.
Add the red beans, and cook for 2 minutes, stirring often.
Add enough water to cover beans, and season with salt, pepper and red pepper.
Bring to a boil, then lower heat to a simmer. Cover and cook for 2 hours, or until beans are tender.
In a separate pot, cook rice with 3 cups water and salt to taste.
Crust:
Preheat oven to 400 degrees.
Combine the cornbread mix, ⅔ cup of flour, ⅔ cup of water and 2 tablespoons of olive oil. Mix well. (The dough will be wet; you will not be able to roll it.)
Press dough on a lightly greased pizza pan. Bake 10-14 minutes.
Pizza Topping:
When beans are tender, drain and hold the liquid in reserve.
In a skillet, cook sliced sausage until brown. Remove sausage and drain on paper towels.
Add the remaining flour to the grease in the skillet and add 1 tablespoon of olive oil. Cook to create a roux, then add the reserved bean liquid to the roux. Cook over low heat until bean sauce thickens.
Spread bean sauce on the pizza crust. Combine the cooked beans and rice, and layer on top of the sauce. Top beans and rice with cooked, sliced sausage, and sprinkle with fresh parsley. Serve warm.