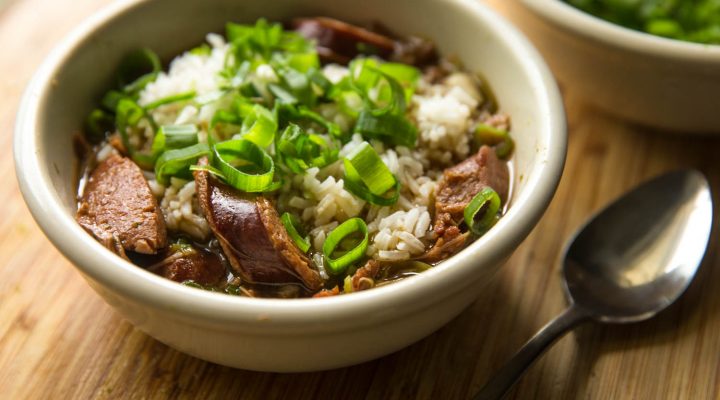 Pableaux's Turkey Bone Gumbo
Pableaux Johnson of The Red Beans Road Show made this, his personal turkey gumbo recipe, for an interview with Serious Eats. Photos by Chris Granger .
Directions:
Make the Broth
Place turkey carcass in large stockpot. Add celery, onions, water, salt, peppercorns, and bay leaves.
Bring to a boil, reduce heat to medium and simmer, uncovered, for 2 to 4 hours (the longer the better).
Remove from heat and skim any fat that has risen to the surface.
Strain through a large colander into another pot.
Reserve any meat that has fallen off the bones and pick off any meat that may still remain on the carcass.
Use immediately or freeze in quart-size containers.
Makes about 2 to 3 quarts (or enough for 1 gumbo).
Make the Gumbo
Combine oil and flour in a heavy-bottomed cast-iron pot or enameled cast-iron Dutch oven.
Cook over medium-low heat, stirring slowly and consistently for 20 to 25 minutes, to make a dark brown roux, the color of chocolate. 
Season onions, bell peppers, and celery with salt and cayenne and add them to the roux.
Cook and stir vegetables and roux over medium heat until vegetables are soft, about 5 minutes.
Add sausage and cook, stirring often, for 5 to 7 minutes.
Add broth and bring to a boil. Reduce heat to medium-low and simmer, uncovered, for 45 minutes.
Add reserved turkey meat and simmer for 30 minutes.
Add parsley and green onions.
To serve, ladle into soup bowls over steamed white rice.