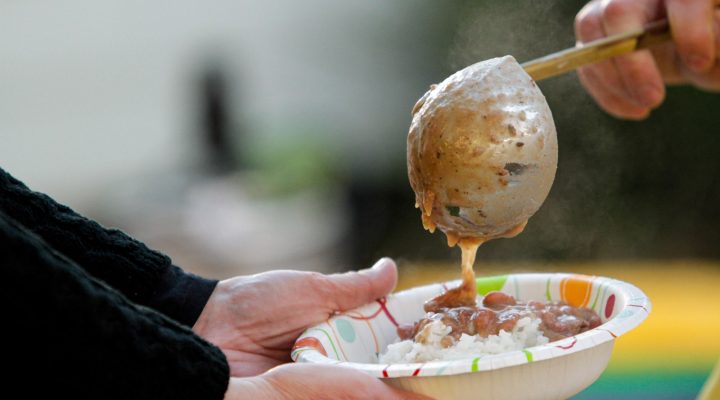 Contributed by
Eric Olsson
Red Beans and Rice for 50
Directions:
Soak the red beans overnight. The next day, drain and rinse the beans thoroughly.
Put a 50-qt. seafood boil pot (without the steamer basket) on the burner, and use propane to bring it to medium heat. Add the bacon fat. Once the bacon fat is melted, add the 5 pounds of sausage to the pot and brown.
Once the sausage has started to brown, add the onions, green bell peppers, celery and garlic, and keep stirring with the wooden paddle until the onions are tender and translucent. Carefully add the 2 gallons of water to the pot along with the red beans, bay leaves, white pepper and dried thyme. Raise the heat to medium-high, allowing the pot to come to a boil. (This could take 30 minutes or so, depending on the heat conductivity of your pot.)
Once the red beans are at a boil, reduce heat and cover; simmer on low for 2 hours or until the red beans are tender, stirring occasionally. Once the beans are tender, smash some against the side of the pot for added creaminess. Remove bay leaves.
Before serving, stir in the chopped green onions and fresh parsley.
PRO TIPS:
When cooking in a big pot over a centered, narrow heating element, you need a utensil with a flat head (like a wooden paddle) that lets you scrape the bottom of the pot as you cook, so that it doesn't burn. If the sausage and vegetables start to stick while cooking, add more bacon fat or a few glugs of olive oil.
If there's too much liquid in the pot, raise the heat back up to a rolling boil to burn off some of the liquid. After letting the pot boil for 10-15 minutes, reduce heat, and let simmer for 20 minutes.
To make it a memorable experience, add a bottle of beer to the pot when you add the red beans. The yeast in the beer will help thicken the pot and give the beans a unique flavor.