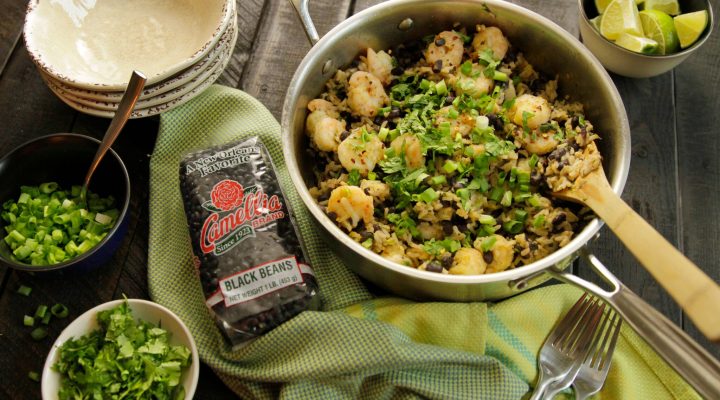 Shrimp and Black Bean Skillet Casserole
Directions:
Heat large skillet over medium heat. Add olive oil, and heat until oil shimmers. Add shrimp and minced garlic to skillet. Add Creole or Cajun seasoning to taste and red pepper flakes. Cook shrimp, stirring once or twice, until they are just pink, about 4 minutes. Pour the contents of the skillet into a bowl, and set aside.
Set the same skillet over high heat. Add broth, water, rice, more Creole or Cajun Seasoning to taste, and minced scallions. Bring to a boil, and stir to blend. Reduce heat to low, and cover. Cook until rice is tender but not sticky, about 20 minutes.
Remove skillet from heat. Mix in 2 tablespoons lime juice, cooked black beans, and chopped cilantro. Gently combine the shrimp mixture with the rice mixture. Add remaining tablespoon of lime juice, and stir gently to combine. Gently reheat or serve at room temperature.To serve, garnish with sliced scallions and additional chopped cilantro.
*Note: Learn how to cook beans in advance, for use in recipes.