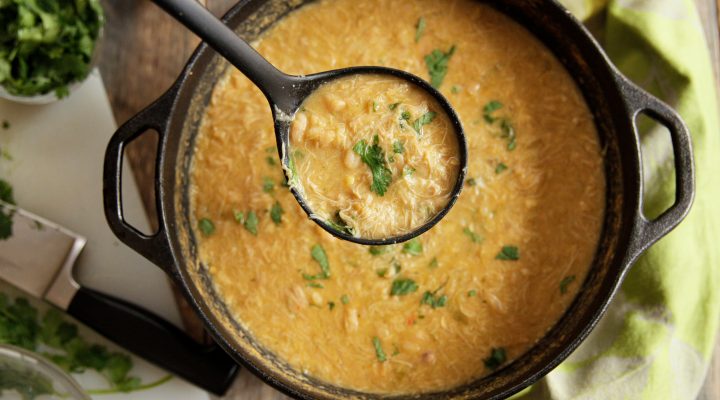 Stovetop White Bean & Chicken Chili
Directions:
Add oil to a large Dutch oven set over medium-high heat. Add onions and cook until translucent, about 4 minutes.
Add Hatch chilies (or Poblano chilies), green chilies, garlic, beans, 7 cups broth, chicken, and spices. Stir to combine thoroughly.
Bring to a boil. Cover, reduce heat to low, and cook for about 2 hours, stirring occasionally, until the beans are soft but not falling apart. Add additional broth as necessary. If desired, remove and shred chicken, and add back to pot.
In a mixing bowl, mix the heavy cream (or milk) with the masa (or cornmeal). Use an immersion blender or whisk to combine thoroughly, and pour the mixture into the chili. Stir well.
Cook 10 more minutes to thicken the chili, and heat thoroughly. Adjust seasoning with salt and white pepper as desired.
Serve with toppings and warm tortillas on the side, if desired.
Notes:
One a scale of 1-5, the spice level of this chili is a 2.
To roast Poblano chilies, preheat oven to 500°F degrees. Line a baking sheet with aluminum foil for easy cleanup. Arrange the whole peppers in a single layer on baking sheet. Bake for 30 to 40 minutes, until skins are completely wrinkled and charred, turning occasionally to promote even roasting. Remove pan from oven, transfer peppers to a bowl, and cover bowl tightly with foil or plastic wrap. Keep covered until peppers are cool enough to handle, about 30 minutes. Remove the skin from each pepper by rubbing lightly beneath your fingers. If you are very sensitive, you may wish to wear gloves. Remove and discard the stems and seeds. Cut peppers into quarters lengthwise and chop.