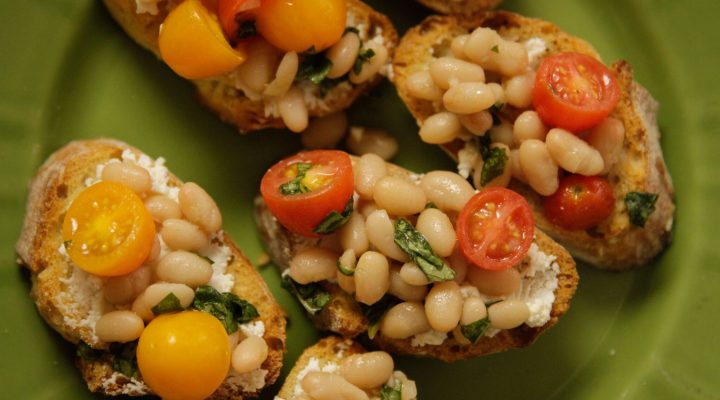 Tomato & White Bean Bruschetta
Directions:
Preheat oven to 400°. Line a large baking sheet with parchment paper or foil.
Place baguette slices on baking sheet, and using 1 tablespoon olive oil, lightly brush the top of each baguette slice with oil. Sprinkle with salt and pepper.
Bake baguette slices 8-10 minutes or until golden brown. Allow to cool.
In a large mixing bowl, gently combine sliced tomatoes, cooked beans, remaining one tablespoon olive oil, basil, vinegar, garlic and salt.
Spread goat cheese or cream cheese on each baguette slice and top with tomato & bean mixture. Garnish with extra basil and serve.
Note: Toasted baguette slices (also called "crostini") can be made several days ahead and stored in an airtight container. With beans cooked in advance as well, this delicious party appetizer comes together quickly and easily.