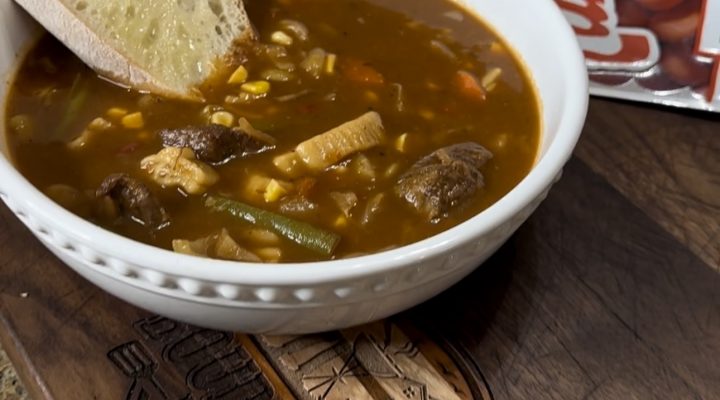 Contributed by
Justin Boudreaux
Vegetable Beef Soup with Lima Beans
Directions:
Rinse and sort beans, and soak overnight in water.
Prep all ingredients by peeling and roughly chopping the vegetables. Dice onions and bell pepper.
Prepare chuck roast by removing hard fat and dicing into bite-sized pieces. Season meat liberally with dry spices and sprinkle with flour.
Heat oil in a large Dutch oven. Brown seasoned meat in small batches, removing and setting aside each batch.
Add all meat back to the pot. Add onions and peppers, and cook until soft.
Add a little beef stock to deglaze the pot. Scrape the bottom to loosen any stuck-on pieces.
Add 2 quarts of beef stock, tomato sauce, V8 juice, 10 cups water, 3 bay leaves, and season to taste.
Add green baby lima beans. Simmer over low heat for 2 hours, or until the beans are soft. Add more beef stock as needed. 
Add carrots and turnips, and cook for 30 minutes.
Add pasta, remaining vegetables, and cook 30 minutes more.
Justin Boudreaux is the founder of Boudreaux's Backyard, which is dedicated to showing people how to produce top quality gourmet food at home and in your backyard.