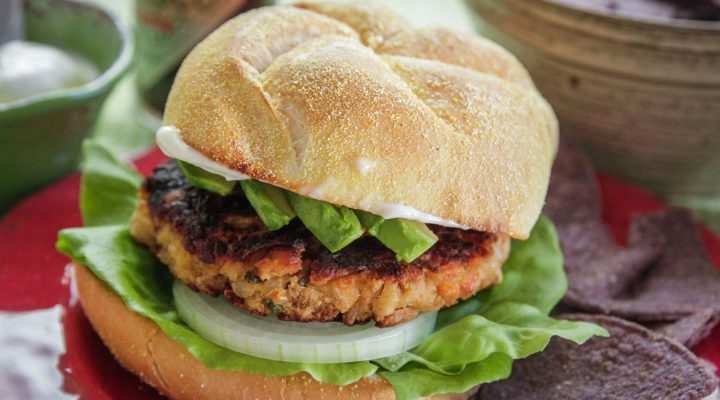 White Bean, Basil and Sun-Dried Tomato Burgers
Directions:
1. Crack egg in a large bowl and beat well. Add beans and stir. With a potato masher, mash beans until relatively smooth, but with some texture remaining.
2. Add cooked rice and stir to distribute evenly. Stir in garlic, tomatoes, lemon juice, basil, flour, Parmesan, salt and pepper. Mix until well combined. This may be easier to do with your hands.
3. Roll small handfuls into eight balls. If mixture is too wet to hold together well, add more flour, a tablespoon at a time. If it's too dry, add the white of another egg, or a whole egg, if needed.
4. Press each ball to form a patty about 2-1/2 to 3 inches wide. (At this point, patties can be stacked on a plate, covered and refrigerated to cook up to four hours later.)   
5. In a large skillet, heat olive oil and butter over medium heat. Cook patties a few at a time, about 3 minutes on each side, until golden brown. Transfer to a bun or onto a salad.
6. Any remaining patties can be refrigerated in zip-top bags or airtight containers. Keeps well.