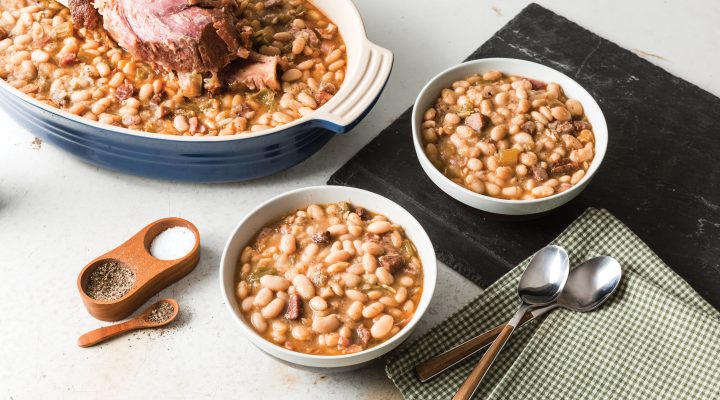 Contributed by
Louisiana Cookin'
White Beans with a Cajun Accent
Directions:
In a large Dutch oven, add beans and water to cover by 2 inches. Let stand for 8 hours. Drain.
In a large Dutch oven, heat 2 tablespoons vegetable oil over medium heat. Add tasso and cook, stirring frequently, until browned, 8 to 10 minutes. Remove tasso, and set aside. 
To Dutch oven, add remaining 1 tablespoon vegetable oil, onion, celery, and bell pepper. Cook, stirring occasionally, until almost tender, 4 to 5 minutes. Stir in garlic, and cook for 1 minute, scraping browned bits from bottom of pan.
Add reserved beans, broth, reserved tasso, hot sauce, bay leaf, and Cajun seasoning, stirring to combine. Add ham bone and just enough water to cover beans by 2 inches. Bring to a boil over medium-high heat; reduce heat, and simmer, stirring occasionally, until beans are tender, about 2 hours. For creamier beans, mash 1 to 1½ cups of beans with the back of a wooden spoon. Remove bay leaf before serving.
This recipe and image are from Louisiana Cookin' magazine.