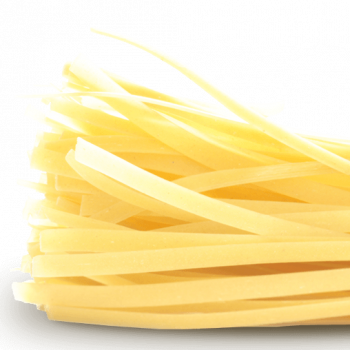 A flat, thick, ribbon-shaped pasta. This pasta originates from Roman and Tuscan cuisine. Because it's a thicker pasta, it's best served with hearty meat or cream-based sauces. Fettuccine works best with smoother sauces, as chunks of meat or vegetables can become separated from the strands of pasta, rather than enjoyed with each bite.
All Dagostino pasta is made in-house using the "delicate" method developed centuries ago in Palermo, Sicily. Small quantities of pasta are extruded through bronze dies created specifically for each shape. The pasta is carefully looped over wooden rods, straightened, then air-dried in wooden cellars.
No microwaves.  No preservatives.  No additives. No artificial coloring. This product is available in a 12 oz box.
To learn more about Dagostino Pasta, visit http://www.dagostinopasta.com.