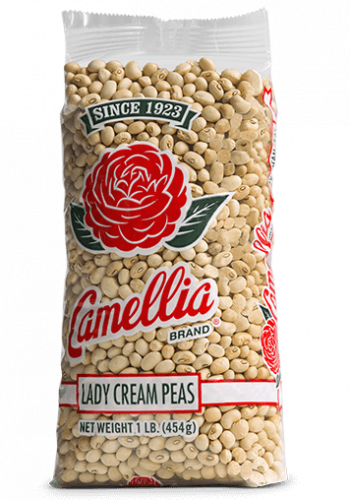 Lady Cream Peas are a type of cowpea. They have no color and, when cooked, they yield a clear pot liquor. They have a sweet flavor and creamy texture and are featured in Southern dishes. Like all of our beans, Camellia's Lady Cream Peas are non-GMO, gluten-free, and meet the "Hayward Standard" – the name our growers gave our bean quality standard – which exceeds the top USDA requirements. Try some today – we think you'll taste the difference.
Buy Online
Where to Buy
Nutritional Information
close
Nutrition Facts
Serving Size: 1 Cup, Cooked
Number of Servings: 6
Amount Per Serving
Calories 200
Calories from Fat 9
% Daily Value
Total Fat 1
1%
Saturated Fat 0g
0%
Trans Fat 0g
Cholesterol 0mg
0%
Sodium 7mg
0%
Total Carbohydrate 36g
12%
Dietary Fiber 11g
44%
Sugars 6g
Protein 13g
44%
*Percent Daily Values are based on a 2,000 calorie diet. Your daily values may be higher or lower depending on your calorie needs.
About Lady Cream Peas
Lady Creams can be cooked with salt pork, tasso, or smoked ham and served with rice for a distinctly Southern meal.
Read More