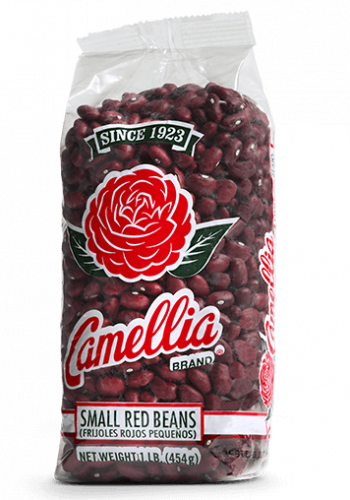 Small Red Beans
Camellia Small Reds (Frijoles Rojos Pequeños) are smaller and darker in color than Camellia Red Kidney Beans, and their shape is closer to that of Camellia Black Beans.
These colorful, diminutive red beans possess a rich, nutty flavor that holds up beautifully when seasoned with lots of peppery heat.
Like all of our beans, Camellia Small Reds are non-GMO, gluten-free, and meet the "Hayward Standard"– the name our growers gave our bean quality standard – which exceeds the top USDA requirements. Try some today – we think you'll taste the difference.
Buy Online
Find a Store
Nutritional Information
close
Nutrition Facts
Serving Size: 1/4 Cup, Cooked
Number of Servings: 9
Amount Per Serving
Calories 180
Calories from Fat 0
% Daily Value
Total Fat 0
0%
Saturated Fat 0g
0%
Trans Fat 0g
Cholesterol 0mg
0%
Sodium 7mg
0%
Total Carbohydrate 31g
10%
Dietary Fiber 8g
32%
Sugars 1g
Protein 11g
32%
*Percent Daily Values are based on a 2,000 calorie diet. Your daily values may be higher or lower depending on your calorie needs.
What Are Small Red Beans?
Small Reds keep their shape when cooked for a long time, which makes them ideal for soups and congees, as cooked-and-chilled additions to salads, and when served mixed with rice in spicy Caribbean dishes. They're also known as "Mexican red beans," "Honduran red beans," "Salvadorean red beans" or "Central American red beans," and they make a great substitute for pintos or red kidneys in chili, with rice dishes, or mashed and refried in baleadas, a popular Honduran street food.
Read More