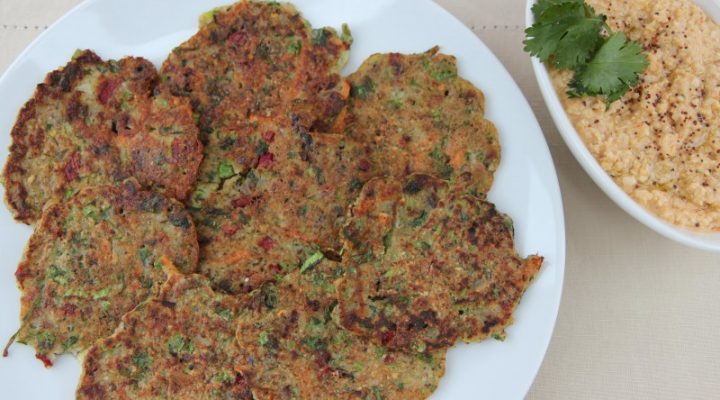 Contributed by
Christine Ciancetta
Adai Dosa
Directions:
Rinse the beans and rice well. Soak in a large container for a minimum of 6 hours or overnight. Drain and rinse again then add to a blender. (This recipe will make 6-8 cups. If you have a small blender, work in batches.) Add cumin seed, chilis, ginger and salt. Add water to just below the level of the soaked rice and beans. Blend on low to incorporate, then increase speed to make a coarse batter. Add water if the batter becomes too thick. At this point, you can use the batter or season it further.
Seasoning: Heat a skillet on medium and add a few teaspoons of canola oil.  When the oil is hot, add the mustard seeds. When they begin to crack, add the yellow split peas, cumin and urad dhal. Cook until they turn golden brown then add the onions and a pinch of salt. Cook until the onions are translucent and just begin to turn brown.  Remove from the heat and cool. When room temperature, add to the bean/rice batter.  If your batter has absorbed additional water, just add a little at a time to loosen it up.
Cooking the dosa: Cast iron skillets are great for cooking dosa pancakes. Heat on medium-high for a few minutes then add a few teaspoons of oil to coat the pan.  Place spoonfuls of batter in the hot oil, shaping the batter into a round.  It won't do this on it's own like pancake batter. I find the dosa cook easily when they are small, about 4 inches in diameter. Continue to cook dosa on one size until the edges begin to look dry and the outside of the dosa take on color. Flip and cook the other side. Season with good sea salt and serve warm.
Christine Ciancetta is part of the Olympia, Washington, Slow Food chapter and is a wonderfully creative participant in Terra Madre 2018's celebration!