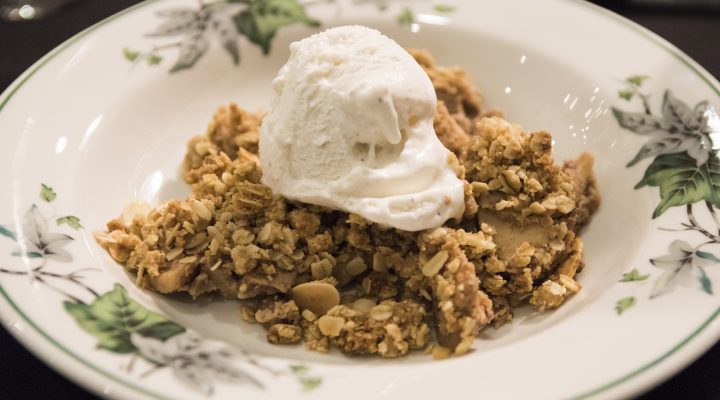 Contributed by
Alon Shaya
Bean Cobbler
Directions:
BEAN COBBLER
Soak your crowder peas overnight with enough water to cover them. The next day, strain your peas and discard the soaking liquid.
Combine the peas with water, cinnamon, orange peel, vanilla extract and whole cloves in a pot. Bring the pot to a boil, then reduce to a simmer. Cook the peas for about an hour and a half or until they are tender. If while your peas are simmering the water is no longer covering them, add more to cover.
While your beans are cooking, dice the apple and mix with lemon juice to keep from browning. Once the beans are cooked, remove the orange peel, cinnamon stick, and whole cloves. Strain out the leftover water in the pot and discard.
Puree ¾ of your beans in a food processor with the brown sugar, granulated sugar, yogurt, egg yolk, whole egg, nutmeg, salt, bourbon and cornstarch.
Combine pureed peas, whole peas, and diced apple in a bowl. Transfer to a 8" Dutch oven cover and bake at 325 F for 15 minutes. Uncover and top with streusel (recipe below) bake for another 15 minutes. Serve warm topped with vanilla ice cream.
OAT STREUSEL
Combine oats, sliced almonds, whole wheat flour, all-purpose flour, light brown sugar, salt and pumpkin pie spice in a bowl with a whisk. Whisk in melted butter. Reserve for the top of the cobbler. Can be made ahead of time and stored in the freezer.
Alon Shaya is an Israeli-born chef who currently owns two restaurants: Saba in New Orleans and Safta in Denver. His culinary journey and resounding love of Israeli and Italian cuisine is reflected in his cookbook, "Shaya: An Odyssey of Food, My Journey Back to Israel."