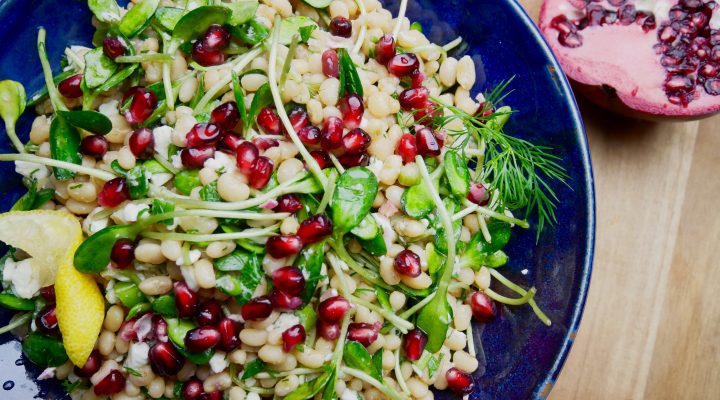 Contributed by
Nicole Aandahl
Bedazzled Lady Cream Peas
Directions:
Rinse dried peas, then add peas and fresh water (enough to cover peas by 2 inches) to a large pot. 
Bring to a boil over medium-high heat, then lower to a simmer and let cook for an hour, checking from time to time to make sure that peas do not stick to the bottom of the pot. Add water if needed to ensure that there is always enough water in the pot to cover the peas. After the hour, and when the peas are still firm but can be easily smashed with a fork, drain in a colander and rinse gently with cold water to keep from cooking further. Set peas aside to drain and cool completely, about 15 minutes.
Place cooled peas in a large salad bowl and add sprouts, feta, green onions, parsley, mint and dill.
In a separate bowl, whisk together olive oil, lemon juice, red wine vinegar, honey, salt and crushed red pepper until slightly creamy. Pour over salad and toss gently. 
Sprinkle pomegranate seeds on salad and serve.
Nicole Aandahl of cleansoulkitchen.com is a Virginia-based food writer and blogger who loves her garden and global soul food. Nicole participates in 'Chef at Market' events with Fresh Farm Markets in the DC-area and teaches private cooking classes on everything from making biscuits to gumbo.