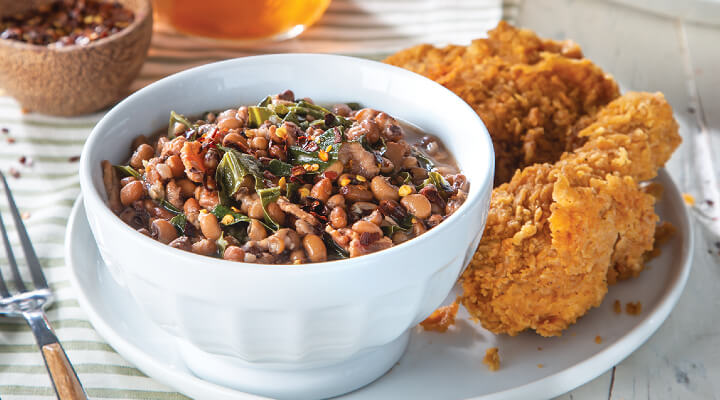 Bourbon-Bacon Field Peas with Collards
Directions:
In a large Dutch oven, cook bacon over medium heat until crisp, about 20 minutes. Remove bacon using a slotted spoon and let drain on paper towels, reserving 4 tablespoons drippings in pan.
Add onion to drippings. Cook over medium heat, stirring frequently, until onion is tender and lightly browned, about 8 minutes. Add garlic; cook 1 minute more. Stir in field peas, bay leaf, water and bacon. Bring to a boil over medium-high heat. Reduce heat to medium-low, cover and cook, stirring occasionally, about 1 hour.
Stir in collard greens, bourbon, salt and pepper. Continue to cook, covered, stirring occasionally, until peas and collards are very tender, about 45 minutes more. Remove bay leaf.
Sprinkle with crushed red pepper and serve with fried chicken.
This recipe is courtesy of Taste of the South magazine and was tested by the Taste of the South test kitchen. Camellia Brand is the official dry bean of Taste of the South. For more recipes from Taste of the South, click here.