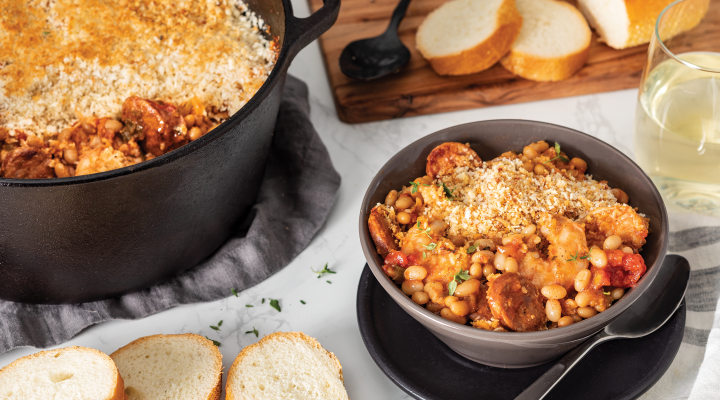 Camellia's Shrimp, Andouille and White Bean Cassoulet
Directions:
Add the navy beans, three bay leaves, and Creole seasoning to taste to a large saucepot. Add enough water to cover the beans by 3 inches. Bring to a boil and cook, adding additional water as necessary, until beans are soft, about 1 hour. Drain and set aside.
Heat the olive oil in a Dutch oven, preferably cast iron, over medium-high heat. Add the Andouille and cook until brown, about 10 minutes. Add the onion, celery, garlic, oregano, and Creole seasoning to taste; cook until the vegetables are tender and translucent, about 7 minutes.
Crush the tomatoes with your hands over the contents of the Dutch oven before adding them to the pot. Add the 2 remaining bay leaves, Worcestershire, reserved navy beans, thyme, and green onions. Add the chicken broth, and bring to a boil. Reduce the heat to medium-low and simmer until the beans have absorbed the broth, 15 to 20 minutes.
Meanwhile set a low broiler. Combine the Panko, Parmesan, oregano or thyme leaves, olive oil, and salt and pepper to taste. Set aside.
Add shrimp to Dutch oven, and cook until thoroughly pink, 8 to 10 minutes. Top with Panko mixture. Place under broiler and cook until lightly golden, 2 to 3 minutes.
Alternatively, the cassoulets may be broiled and served in individual ramekins.