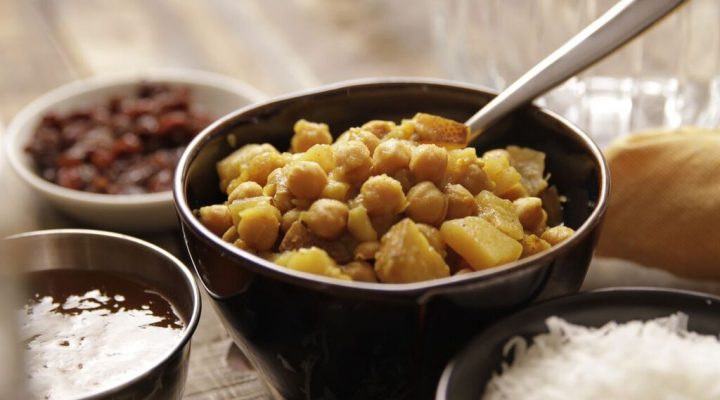 Contributed by
Jessica Harris
Caribbean-Style Chickpea Curry
Directions:
In a large frying pan, heat the butter and sauté the onion, garlic, and ginger until the onion is soft but not brown. Add the curry powder and the crushed red pepper, stirring so that they do not stick or burn. Gradually add the vinegar and stir until you have a smooth paste. (You may have to add more.)
Add the soaked chickpeas and the potatoes; stir well to cover them with the paste. Remove from heat and allow to marinate for at least 2 hours.
When ready to cook, place the chickpea and potato mixture into a large frying pan or in the bottom of a Dutch oven, and add enough water to reconstitute the paste and prevent scorching. Cover and simmer over low heat for about 2 hours or until the chickpeas and potatoes are fork tender. Check occasionally and add more water if necessary to prevent scorching.
Serve hot with mango chutney, raisins, freshly grated coconut or with the Indian bread known as roti.