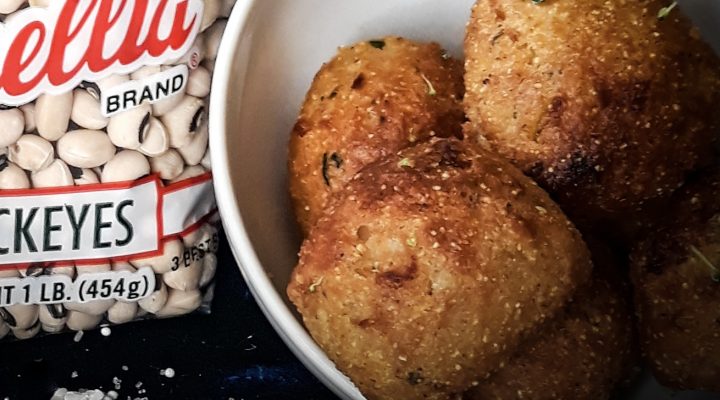 Contributed by
Jennifer Hill Booker
Chef Jenn's Blackeye Pea Fritters
Directions:
Heat olive oil in a large saucepan over medium heat.
Add sausage and cook until sausage has started to brown, about 5 minutes.
Add onion, garlic and thyme and cook an additional 5 minutes or until vegetables are softened.
Stir in rice and cook until the grains turn translucent, about 2 minutes. Add chicken stock a half-cup at a time and cook, stirring frequently, until liquid is absorbed and rice is cooked through but still firm (al dente), about 20 to 25 minutes.
Stir in the Blackeye Peas, cheese, butter and Moulin Rouge Sassy Seasoning Salt.
Spread the Blackeye Pea mixture out onto a baking sheet and refrigerate until completely chilled; about 2 hours.
Pour 2 inches of vegetable oil into a heavy-bottomed pot and heat to 350°F over medium-high heat.
Line a large platter with paper towels and set aside.
While oil is heating, pour flour into a shallow baking dish and season with Moulin Rouge Sassy Seasoning Salt. In a second shallow baking dish, whisk together eggs and water.
Pour bread crumbs into a third shallow baking dish.
Form the cold Blackeye Pea mixture into golf-ball sized balls.
Roll each ball in the seasoned flour, then roll in the egg wash.
Shake off any excess egg and roll in the breadcrumbs.
Repeat until all of the mixture has been breaded.
Place the balls in the vegetable oil to fry in batches of 5 or 6, until golden brown, about 5 minutes.
Remove from the oil and drain on the paper-towel–lined platter.
Repeat until they are all fried.
Sprinkle with coarse grain salt and chopped herbs and serve piping hot.
Enjoy!
Chef Jennifer Hill Booker is a Le Cordon Bleu-certified chef, cookbook author, reality TV personality, culinary educator, business owner and GA Grown Executive Chef for the GA Department of Tourism and Travel. She weaves her love of traditional Southern cuisine with her belief in incorporating healthy, seasonal foods and her classic French training.