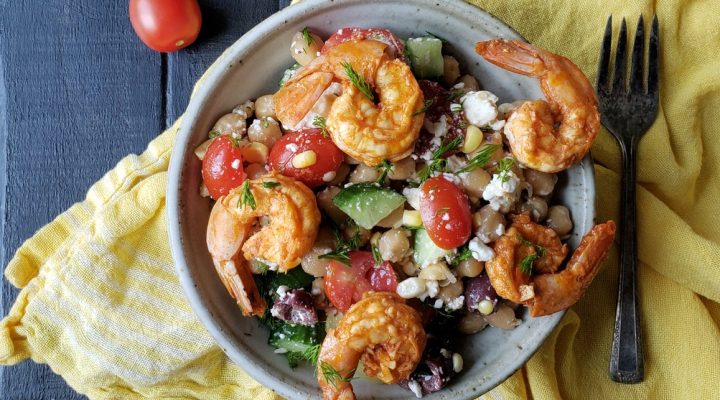 Contributed by
Olga Berman
Garbanzo Summer Salad with Feta and Shrimp
Directions:
To a large heavy bottomed pot add garbanzos and water. Cover with a lid. Bring the water to a boil, which will take about 10 minutes, lower the heat and cook for about 2 hours on medium low heat until the garbanzos are tender. Drain the garbanzos and refrigerate until completely cold. You'll only need 4 cups of cooked garbanzos for this salad: freeze the rest or turn into hummus!
In a large bowl combine 4 cups of cooked garbanzos with corn, cucumbers, tomatoes, olives, lime juice, and olive oil. Season with salt and pepper, and refrigerate while you are working on the shrimp.
In a medium bowl mix shrimp with paprika, olive oil, zest and juice of 1 lemon, and minced garlic cloves. Let stand for 10 minutes.
Heat a large skillet on medium heat. Pour enough olive oil to thinly cover the bottom of the skillet and saute shrimp in a single layer for 2 minutes on each side or until the shrimp is opaque all the way through. Lightly season with salt. Depending on the size of your skillet, you may have to do this step in several batches.
Just before serving, add feta and dill to the salad. Divide the salad into 4 bowls and top with shrimp.
Olga Berman is constantly creating recipes in her head and in her kitchen inspired by a childhood in Russia and travels through the US and abroad. Mango & Tomato is where she shares her love of food and nothing makes her happier than when readers create her recipes to rave reviews.